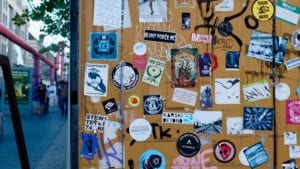 They boomed as did the boomers of the Me Generation—in the 1970s. Whether expressing one's preference for one candidate over another or as a "Honk if you love (insert your favorite band, faith preference, or alas—another political candidate)," these ubiquitous stickers remain as a relic of that era.
People still slap them on their vehicles to let others know where they stand on various issues, candidates—even businesses. Yet to many sophisticated 21st century advertisers, they seem a fount of hopeless naivete—a waste of good advertising dollars. After all, this is the era of targeted Facebook ads and useful-content marketing. Give the customer valuable info and they'll come, right? Bumper stickers are so post-Mad Men-era. Why even bother?
Today's Mobile World Demands Mobile Advertising
One thing's wrong with that line of thought. In a word, mobile.
Beyond the world of targeted advertising on social media and the pile of helpful articles you feed your potential customers, hoping they'll come your way, lie those customers' cars.
Specifically, the cars they'll take to cruise the streets in search of food, merchandise, hotels, and things to do.
When they see a bumper sticker advertising something they want, they immediately pull out their smartphone to Google it, right?
But if the company's website URL isn't right on the sticker, they'll sigh and keep on cruising aimlessly around town.
Many businesses miss out on this gold mine of an opportunity because they're still thinking of their bumper stickers in 20th century terms. Just listing the company name on the sticker and hoping they'll take the time to go through an online search is naïve at best. People don't take the time to do that. They want a quick link that puts them straight through to the company's mobile website, where they can find the phone number, address, and operating hours.
If that link's not there, they won't waste their time. If they don't search for you at that moment, they'll quickly forget. You've just flushed your bumper sticker advertising money down the toilet.
Put the Company Website URL on the Bumper Sticker
Instead, do this. The next time you order your bumper stickers, update them with the company's website URL. Make sure it's readable from a distance, so people in the car can just enter it into their smartphone search app from where they are.
Make Sure the Site is Voice Search Compatible
Remember that customers won't want to risk a ticket or an accident just to find your company's website. Get smart and optimize the website for voice search so they won't have to take that risk. Make it easy for customers, and they'll return the favor with their business.
Update the Site to Be Mobile-Friendly
It won't do the company a bit of good to have the URL on the bumper sticker if when the website comes up, it's all jumbled or hard to read. Try that on an eight-inch car touchscreen or worse, on an even smaller mobile device. With most website platforms, it's easy and cheap to make the site mobile-friendly. WordPress—among others—even has an app that will do it automatically. Get smart—and get mobile-friendly.
Update Other Offline Outdoor Advertising Accordingly
This advice doesn't just apply to bumper sticker advertising. Everything from the company's outdoor signage to billboards should contain the website's URL. Potential customers will see those ads and become frustrated if they can't find the company's website quickly. Make it easy for them, and they will pour into the doors And yes it is possible to.leverage these types of low-cost ways to promote a business.
Follow this advice to take your bumper stickers—and all the company's outdoor advertising—into the 21st century.